I'm Judy Redlich, and I've lived in St. Louis most of my life. If you know me well, you've probably heard me describe myself as a pioneer. I love learning new things and getting out of my comfort zone every once in a while. I was the first person with a disability to go through the Lutheran school system and then went on to study journalism at Missouri Valley College. A year later, I was on the start up team to build KNLC, TV 24. I've been involved in and have had a strong passion for impacting people's lives through media ever since.
Helping people tell their stories and find their highest potential has been a thread throughout my career. Blazing trails for folks with disabilities brings out the pioneer in me. Besides hosting TV and radio shows and podcasts, I've lead teams to Mexico on missions outreaches, and equipped churches to start disability ministries as Church Relations Manager at Joni and Friends Greater St. Louis. It's my joy to help churches start and grow disability ministries so families affected by disability can feel welcomed in their local church.
In my spare time, I love camping, hiking, lap swimming, and doing other fun things with my family, and especially my service dog, Thelma.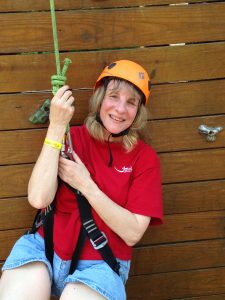 If you'd like to connect – whether it be to learn more about my media work, recommend a show guest, or incorporate disability outreach in your local church – I'd love to hear from you!
Love,
Judy⠠⠚⠥⠙⠽ and Thelma 🐾