For Christmas most years, we've been choosing names among the five of us adults in our family. We give one nice gift to the person whose name we drew and a small give to each of the others.
This past Christmas my son, David, had my name.  On Christmas day he informed me my gift would be coming later.
About a month and a half ago, he asked me to keep March 1st open.  I put it on my calendar and expected we would get together and he might help me enhance my web site, or some other projects around the house.  March 1 arrived, a beautiful Sunny day in St. Louis.  After church he picked me up and we drove about 15 minutes.  Then he parked his truck and we went inside.  I thought we were eating lunch somewhere.  We were greeted cheerfully by the hostess and ushered into a room with a long counter and other voices greeted us.  We each were handed a name tag and an apron. What was this all about, I wondered.  After thanking us for coming, our instructor said "today we will be making these recipes." She handed out a packet and asked us all to wash our hands. 
Wow! A cooking class! I had never been to one before and it was so much fun. My son enjoys cooking, too, and when he lived at home, we did a lot of cooking together.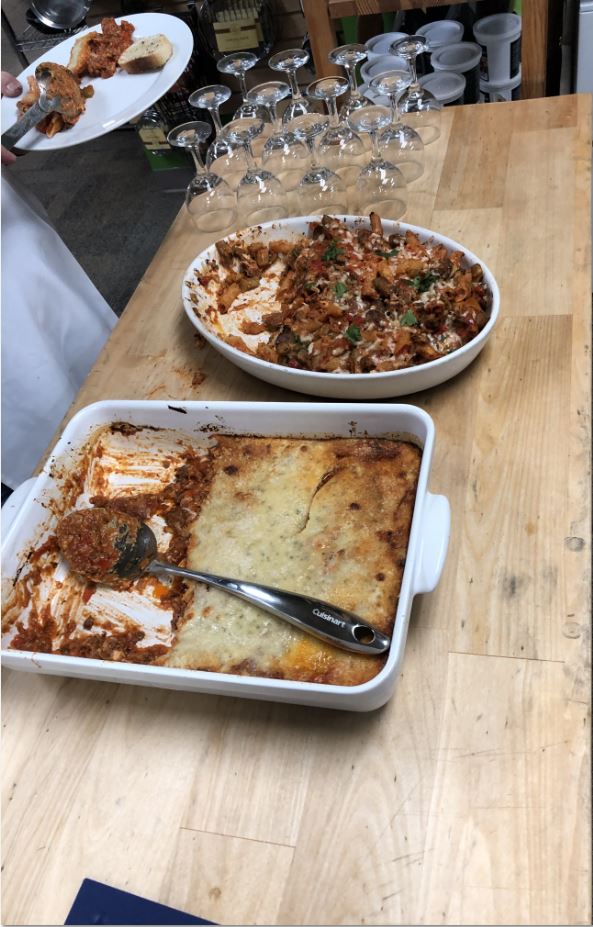 This was my Christmas surprise. We stood side by side and not only learned a lot, but carried out tasks needed to complete the meal. All 12 of us worked together with the instructor to create the casseroles and desserts. When I needed a visual, either David or the instructor let me hold or showed me the technique. When she explained how to get the papery outside off a clove of garlic, she let me borrow her cleaver to try the technique myself. My job became to remove the outside of the clove, and chop it finely for one of the recipes. I got plenty of practice as there were quite a few cloves for me to prepare. David and I also cleaned and prepared mushrooms for one of the recipes. Did you know that you aren't supposed to wash a mushroom? Instead wipe it clean with a paper towel. That's because mushrooms are porous and adsorb water like a sponge?
An hour and a half later, we all sat down to our scrumptious meal and enjoyed every bite.  Since I could not read the paper copy of recipes, I asked for them electronically. By the time I got home, they were in my email. 
What a fun afternoon, and unexpected belated Christmas surprise.  Too bad my husband had to settle instead for left over spaghetti and home made meatballs for supper.