Hello again from The Seeing Eye in Morristown, New Jersey!
If you are a dog owner, you know that dogs are a big responsibility.
Learning how to take care of a dog's basic needs is so important. Feeding it just the right amount of healthy dog food, giving it lots of fresh water, and providing it with sufficient exercise helps maintain the dog's weight, keeps it a happy dog and makes you a happy owner.
For those of us who have working dogs, continuous training and challenge strengthens our team trust. One of the first things my Labrador retriever, Thelma, and I learned was the importance of practicing daily obedience. Just as the Lord desires us to daily feast on His Word, pray and praise Him, so is it important to teach obedience daily with your dog. This keeps its mind sharp and its basic skills active.
Each of us with our dog are encouraged to perform three obedience drills three times each day: come-sit; sit-down; and sit-rest. Grooming the dog's coat daily keeps its skin oils flowing, its fur shiny and odor free, and eliminates the need for regular bathing. We also work with the dog to establish times for elimination so it will get on a schedule. If something changes in the dog's pattern, the owner can catch it right away and handle the problem accordingly.
I'm happy Thelma doesn't mind having her teeth wiped daily with dental wipes. When my classmates and I were taught how to get our dogs to take a pill, she didn't fight me on that, either.
Our class had lectures on various topics almost daily. Here are a few of the them: the importance of obedience; dog care basics; grooming; tips from the veterinarian; food and appropriate toys; traffic safety; the dog's senses and how it perceives things; how to travel on an airplane; dog attacks (WHAT ARE DOG ATTACKS?!); going home; and tips for a smooth transition. We also discussed advocacy and our rights as guide dog handlers. We even learned about pet insurance.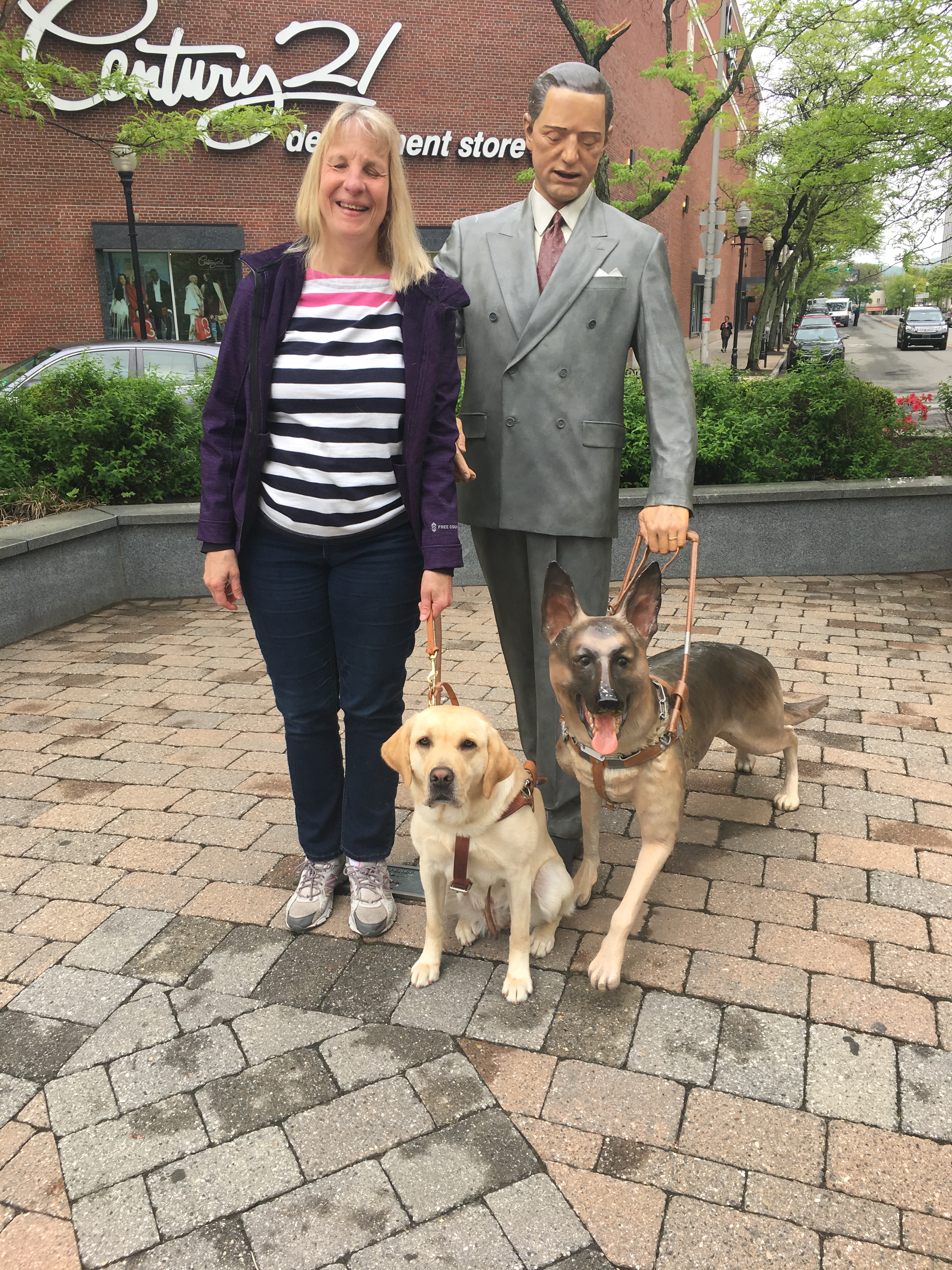 One morning, one of my classmates, Shelby, and I went with our instructor to the park to look at the Morris Franck and Buddy sculpture. Morris Franck was the courageous blind insurance salesman who started the Seeing Eye school.  Next year, the school celebrates its 90th year of providing seeing eye dogs to blind persons. As I stood in front of the statue, I thanked the Lord for this man's tenacity and perseverance. I thought of the thousands like me who had been served by the school because of his persistence.
Twenty of us with our dogs walked to the ice cream shop to have a treat together. It was a celebration of our hard work during the past two and a half weeks. Some dog teams were faster than others, but all made it to the store, went inside and sat down in their places. No dogs barked, no dogs stole any ice cream cones and all enjoyed the fellowship during our last afternoon together. And, as was customary for so many of our adventures, it rained the entire time.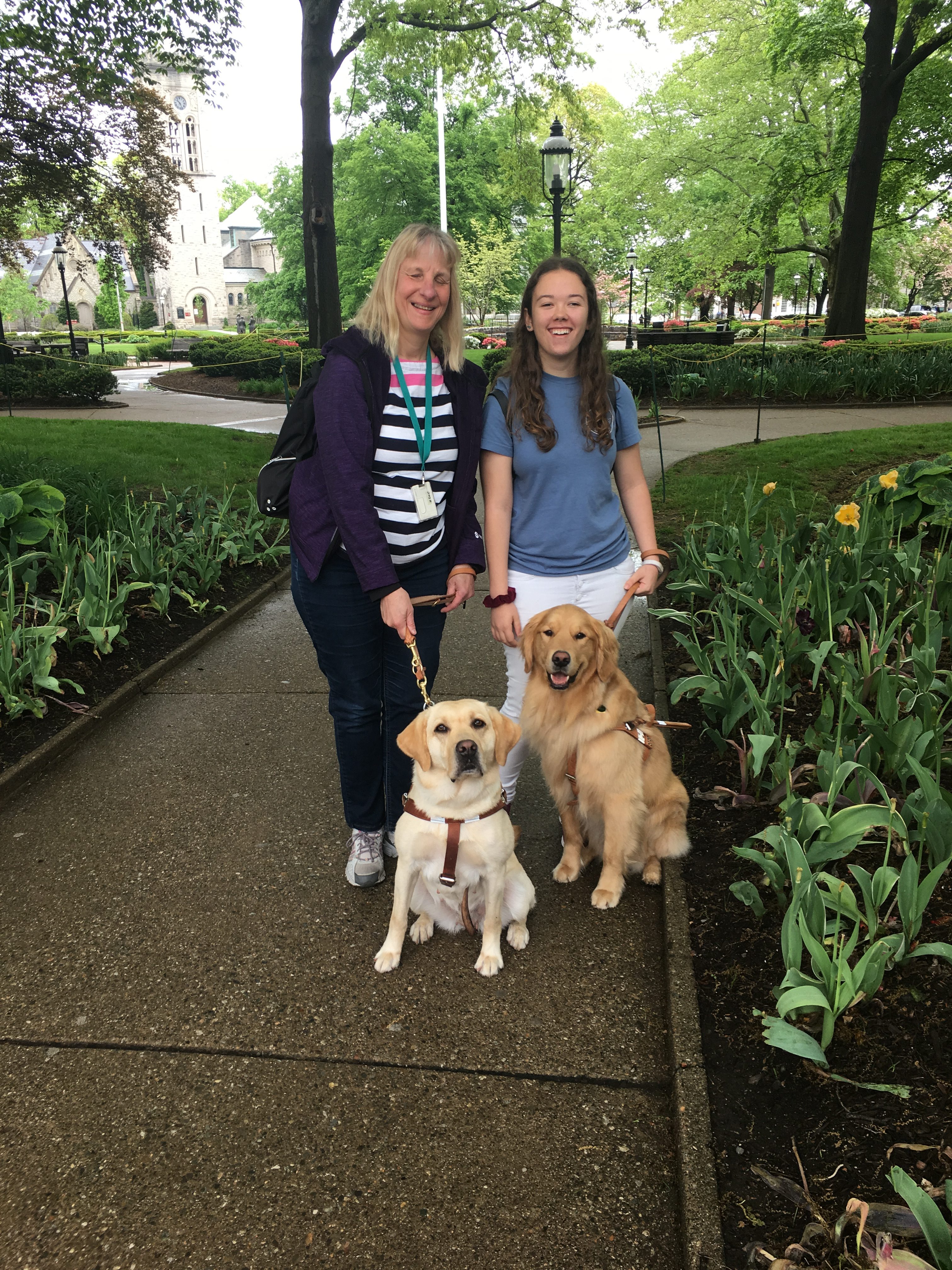 We were wet walking to the shop but dried off a bit inside as we ate our delectable treats. It felt like we flew home through that pouring rain, showing how much we'd all grown to trust our canine teammates. Were we ever glad to dry off when we got inside. All of us anticipated with excitement our trips home to reunite with our families. We knew leaving the Seeing Eye meant we'd have to start from scratch acclimating our new canine friends to their new permanent homes, but Thelma and I were up to the challenge!
You'll hear from us again soon.
Love,
Judy⠠⠚⠥⠙⠽ and Thelma ?