Hello again from The Seeing Eye in Morristown, New Jersey!
After just a few hours sleep, I was awakened by my alarm at 3:00 a.m. This would be the last time I would roll out of bed here at the Seeing Eye School in Morristown, N.J. My Labrador retriever Thelma and I were to leave for the airport with our instructor at 4:30 a.m. Last night we said our goodbyes to staff and classmates. We packed carefully, because we were leaving with more items than we arrived with almost three weeks earlier. Three weeks… I've learned so much in that short amount of time, so many memories, met so many new friends, and renewed relationships with instructors who were here when I got my first seeing eye dog, Velda, 12 years ago…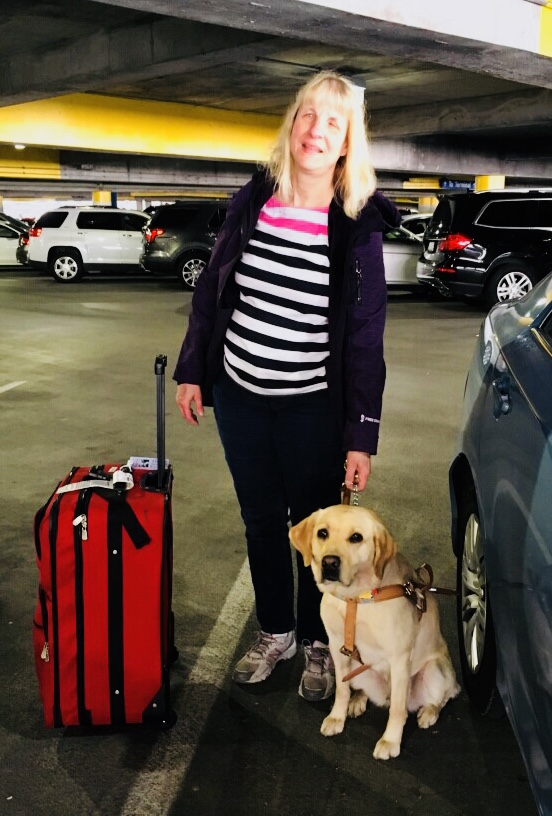 As we drove to the airport, my instructor discussed some airport basics. Because Velda, my first dog, and I had flown at least 25 times together, I already knew the drill. Due to some new airport regulations, however, Thelma and I couldn't check in at the kiosk. We had to stand in line for personal assistance. Then at security, the agent had to find someone who wasn't afraid of dogs. Despite these delays, we arrived at my gate in plenty of time.
Persons with disabilities usually are the first to board an aircraft, so Thelma and I proudly followed the airline worker into the jet. After putting our items in the overhead bin, Thelma and I settled in our seat next to the window. I scooted her under the seat in front of me feet-first, so her head was facing me. She shinnied in like a little hot-dog. To avoid discomfort when the airplane took off, I gave Thelma a treat. When we were about to land, I gave her another treat.
During the flight, I had a lively conversation with an evangelist. He had just returned from Africa. It was interesting that he had a disabled son, so he was eager to learn about Joni and Friends.
When we arrived in St. Louis, the customer assistance personnel escorted me to the baggage claim carousel, where we retrieved our luggage. Soon, my husband Ray arrived to welcome us back to hot, muggy St. Louis. Here we would begin a new adventure, learning my home city together. A new dog for me, a new city for her, and a new office for both of us.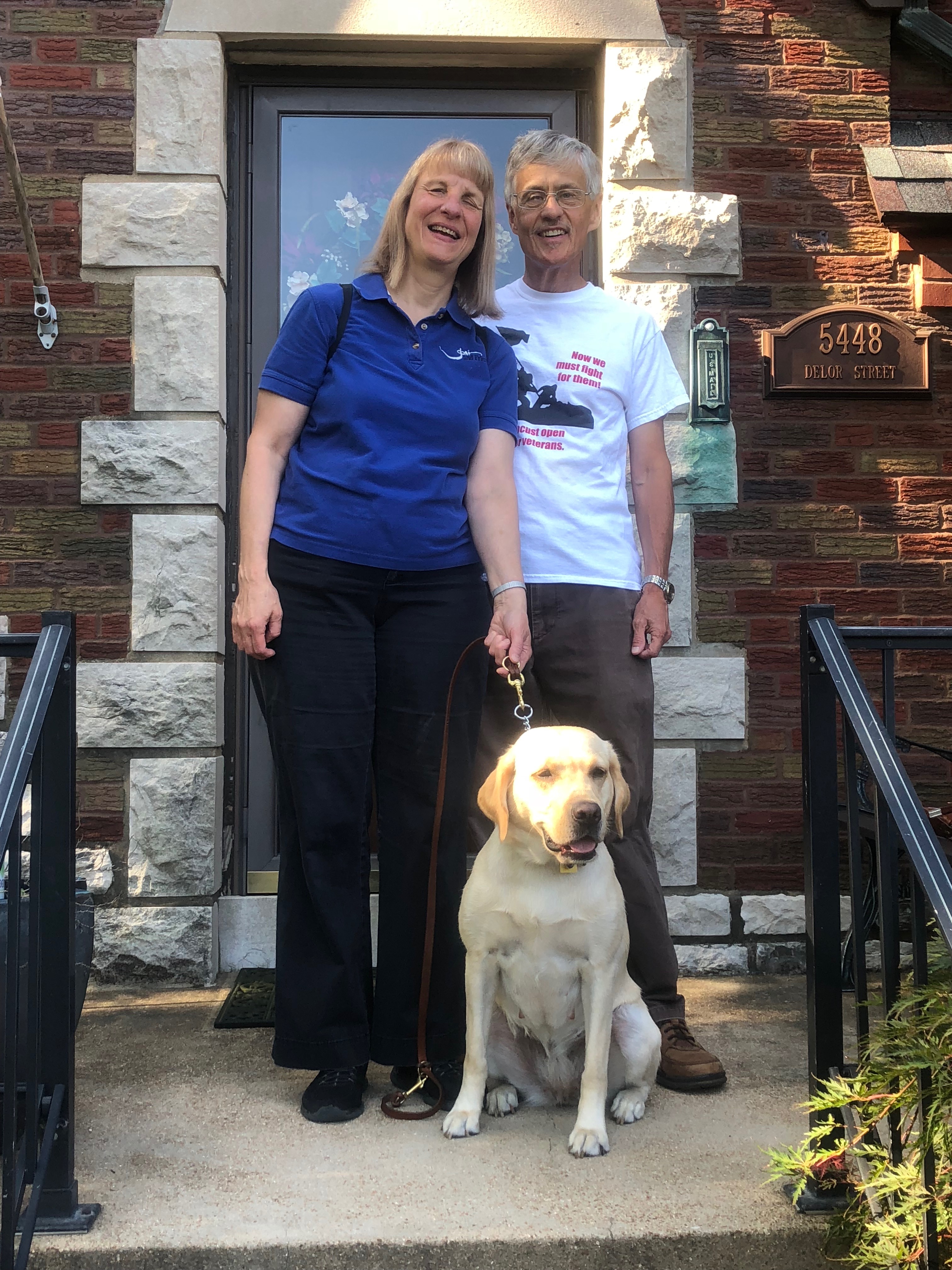 That evening, with Ray behind my right shoulder describing objects coming up, the three of us explored a good portion of our neighborhood. Thelma and I certainly had our work cut out for us. It would be no easy task, learning the streets in a ten by ten block area. Learning together how to conquer low-hanging tree limbs, uneven sidewalks, construction and dog distractions. Our neighborhood has them all.
The learning curve would be huge, but we were ready. My wonderful husband and son were ready, too, to help us learn our surroundings. They agreed to kick in as travel assistants.
In the coming weeks we had many exciting challenges ahead of us. Wait till you read about one in our next adventure!
Love,
Judy⠠⠚⠥⠙⠽ and Thelma ?